Africa-Europe cookbook: the ultimate diplomatic tool to bring two continents to the table
The Delegation of the European Union to the African Union launches a book with 70 recipes from African and European countries, cooked up by AU and EU Commissioners and EU Member State Ambassadors.
What do Hungarian goulash, Spanish gazpacho and Congolese Saka Saka have in common? As typical recipes from their countries, they are unique expressions of diverse cultural identities, but there is something else: all of them share the magical power of food to create social bonds around a table. From Finish Lapland to South African Cape Agulhas, Europeans and Africans alike share the passion for good food. Then, why not use this "delicious" diplomatic tool to strengthen friendship and understanding between these two continents? That is exactly the intention of the Delegation of the European Union to the African Union: they have just published an Africa-Europe Cookbook with a selection of recipes from the two continents prepared by AU and EU Commissioners, AU and EU Member State Ambassadors and other diplomats based across Africa.
"Those who are engaged daily in the relationship between Africa and Europe see diversity as an attraction, not a challenge", says Ranieri Sabatucci, the EU Ambassador to the African Union, who prepared himself a Lasagne al Forno to represent Italian cuisine in the cookbook. "Culture in general and food in particular are essential elements of this diversity. But food also has a unique ability to connect people, to make them feel closer. Complex negotiations and business deals always include a meal. It is on these occasions that trust, friendship and understanding are established".
Food memories: a tasty way to get to know people
The cookbook is a collection of recipes from 70 African and European countries. The colour and flavour of each dish tells us a story, and it is not only about their places of origin, but also about the people who prepared it and their emotional attachments to food. For instance, those reading the book will find out that Commissioner Ansip cannot imagine summer in Estonia without picking wild chanterelle mushrooms, the same ones he used to cook a typical Kukeseenekaste (Chanterelle sauce). "Every family has their own secret places where to pick fresh chanterelle mushrooms – these places are guarded sacredly and information is not shared with just anybody", he reveals.
For Commissioner Crețu, traditional Romanian Sarmale (cabbage rolls with pork and rice) works exactly as Proust's famous madeleines did: "the smell of Sarmale emanating from a kitchen brings me back to my childhood years", she says about a dish that her family used to cook for Christmas, weddings or birthday parties when she was a child.
EU Delegation to AU@EUtoAU
We're thrilled to see all your positive reactions to our Africa-Europe Cookbook! Have you already tried our Ambassador @SabatucciEU 's lasagne recipe? Buonissimo! bit.ly/2LVNBgd @eu_eeas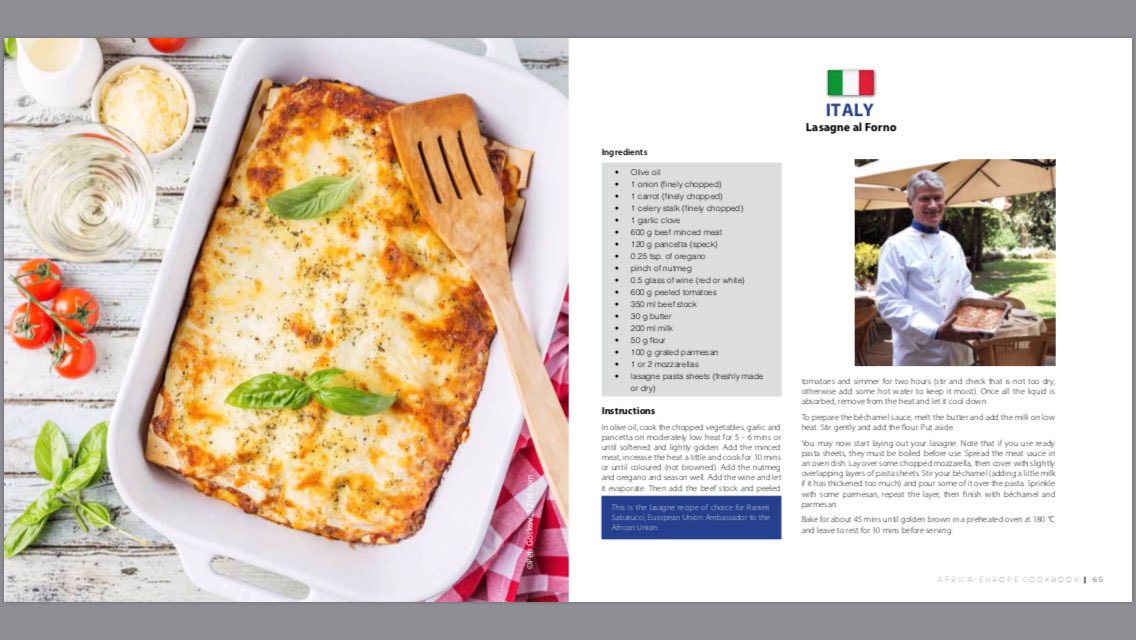 Some delegations invited renowned chefs or other local personalities to cook the recipes together. Frédéric Bontems, Ambassador of France to Ethiopia, teamed up with Ethiopian chef Yohanis to prepare an orange-nigella religieuse, a French dessert fused with traditional Ethiopian ingredients. The cooking session took place at the global Goût de France / Good France culinary event, and was featured on Chef Yohanis' cooking show on Ethiopian TV.
EU Ambassador to Nigeria, Ketil Karlsen, took the chance to invite Senator Binta Masi Garba, the only female senator from the 19 states of Northern Nigeria. They cooked Green Gazpacho, a cold soup prepared with local vegetables and herbs invented by Karlsen, and a pumpkin-less version of Miyan Taush, a Nigerian traditional soup.
These are just a few of the stories behind a book that will surely encourage Africans and Europeans to get to know each other better and realize that, beyond our cultural differences, we are all human beings who share a common passion no matter where we live: having a good meal!